We all considered the possibility. Some thought it would happen, some didn't. Some thought it would kill the character, some thought it wouldn't matter. On July 8, it happened.
"Hu-sky Har-ris!"
One week later, did the chants mean the end of the world for the Eater of Worlds?
Thanks to a masterful performance on the microphone from Bray Wyatt, it appears as if the sky is still the limit for The Wyatt Family. He captivated the crowd and drowned out their 10-years-too-late "What?" chants with the deranged laugh of an televangelist gone haywire. As with most crowds, they didn't listen to what he said, instead choosing to wait for the pauses so they could hit their cues. But Wyatt was especially impressive in that it really didn't matter what he was saying. What was important was how he was saying it. Wyatt shouted and whispered and chuckled in a way that was unhinged, yet still in control. This was not a case of John Morrison renouncing the name Johnny Nitro. This was a complete rejection of the notion that this character is Husky Harris.
Debates are still raging over the Husky Harris chants. One camp considers it a response to WWE "insulting their intelligence," while the other camp thinks it's intentionally destroying a well-planned character, as well as kayfabe in general. Regardless of where you stand, one thing is clear: WWE must make sure the audience never has the chance to do what they did again.
Some characters evolve, and some are outright repackaged. Wyatt, who was the latter, is the latest in a generations-long line of wrestlers who were made to restart. In a perfect world,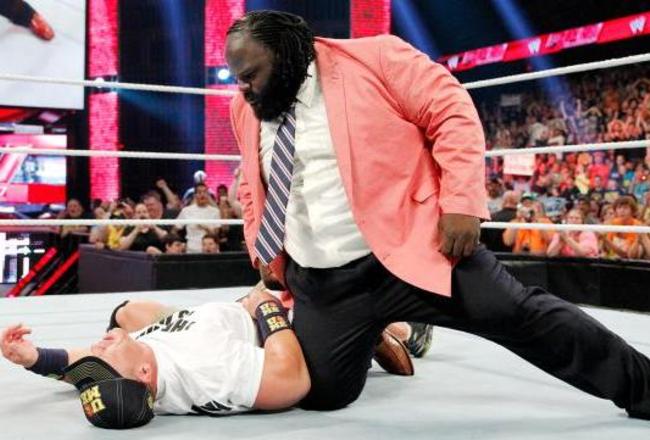 where kayfabe was as protected as ever and wrestling was the mystical spectacle it used to be, Wyatt wouldn't have to worry about "smart" fans remembering his forgettable tenure in the Nexus. Unfortunately, the threat of fans ruining a potentially great new character is as real as ever. Just last month, Mark Henry had a career-defining promo in his fake retirement speech. Since then, he's been nothing but intimidating on the mic. Still, he gets consistent "Sexual Chocolate" chants.
On the other hand, Fandango doesn't get "Johnny Curtis" chants. Damien Sandow doesn't get "Idol Stevens" chants. So what makes Henry and Wyatt different? Perhaps it's that Johnny Curtis and Idol Stevens weren't particularly embarrassing characters, in an age where fans are trying their hardest to seem as "in the know" as possible. Fans are afraid of getting worked. Why would you boo a bad guy when you could instead try to get under the performer's skin and show the world how much you know, right? I'll wink at the performer, and maybe they'll wink back. God forbid I look like a mark! So what's the solution to deal with the unfortunate new reality of "smart" fans undermining new characters? Simply put, every character on television, no matter how temporary or inconsequential, has to be taken as seriously as any full-time credible performer.
That means no more embarrassing, easily-chantable developmental names like "Husky Harris." That means if you ever intend to make a performer credible, you never put him in bed with Mae Young. People will fondly look back at Henry's career and laugh at the Mae Young angle, but from a business standpoint, "I'm Going To Murder You Because That's What I Do" Henry has to sell more tickets than "I'm Serious Now But Remember That Time I Got Busy With A Geriatric" Henry. There's plenty of room for comedy in wrestling, but that's what comedy characters are best used for. If you get a guy with potential like Wyatt in developmental and you're ready to call him up as Angry Young Person #6 in some hot new faction, you must make sure that he's presented in a way in which he can be taken seriously in the future, which includes not giving him a name that kindergarteners would make up and use to tease the fat kid on the playground (Be a star, kids).
Luckily, both Wyatt and Henry are great on the mic, and can work with crowds that don't want to work with them. However, not everyone that gets called up
is going to be as talented, especially when they debut (which is when the fans are going to be most vicious). As more fans become more "smart," the business has to evolve.  Even long-proven tactics may prove unsuccessful in the Reality Era, and WWE must make sure to not give a vocal, fickle minority any chance to undermine its characters. If every character is treated with a certain amount of gravitas, the problem will solve itself.
As fans, it's our job to support talent, at least until they've been given ample time to prove whether or not they have potential. Remember, we're all on the same team. We all want an entertaining product with a multitude of compelling, successful characters. We're not going to get the next Undertaker if fans are going to chant the equivalent of "Mean Mark Call-ous!" whenever a new character debuts.