Summerslam is just on the horizon. In preparation of that, allow myself and fellow WWENews.net writers to give you our favorite memories of the past Summerslam matches and shows. Take a look back with us, and see where the best moments led to the greatest memories.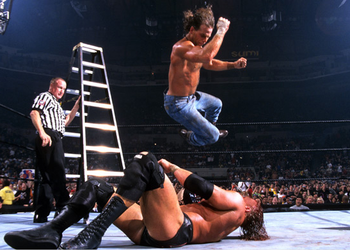 Daniel Arda – Shawn Michaels vs. Triple H (Summerslam 2002)
Shawn Michaels versus Triple H at Summerslam 2002 was a standout memory in a pay-per-view that really delivered across the card. The build was spectacular. Triple H was revealed to be a double-crossing, deceitful villain as he betrayed his best friend and wanted to prove his worth as the bigger main event star of the two. The Heartbreak Kid, on the other hand, returned for what was thought to be his final match after four years away from the squared circle. Thankfully, Michaels went on to extend an already legendary career and it began with a tenacious display that defied expectation.
The 'unsanctioned' match was never going to be a scientific classic due to uncertainty surrounding Shawn's previous back injury. Though what unfolded during the course of the match was a brutal, hard-hitting encounter in which both men took each other to physical extremes. Fans may well be aware that Shawn retired due to a back injury sustained during a casket match with the Undertaker. Targeting this weakness was the foundation for The Game's match strategy. This was a masterclass in ring psychology from Triple H as he ruthlessly schemed to break Michaels figuratively and literally by assaulting him with backbreakers and chair shots.
In response, the Showstopper staged the perfect babyface comeback echoing the Michaels of old. He broke through a table, was slammed back first into a turnbuckle and took an extraordinary amount of punishment. This blend of grit, determination and resilience raised the roof at the Nassau Coliseum – injury would not restrict Shawn's ability to connect with the crowd once more.
Although you could argue that there have been better matches, this was an outstanding effort in a very strong pay-per-view. It's a rare that you will see such a physical, weapon-based match in this era. When two bonafide main-eventers deliver a bout worthy of Wrestlemania, it's no wonder that this one lingers long in the memory.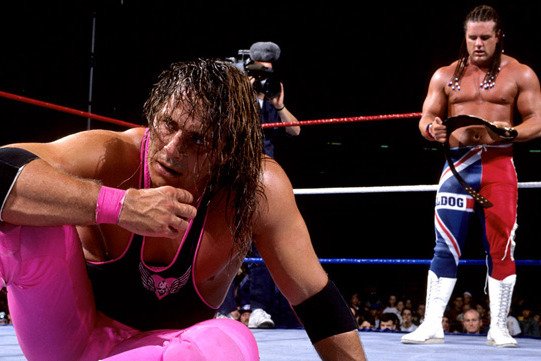 Chris Surrency – Intercontinental Championship Match: Bret Hart vs. The British Bulldog (Summerslam 1992)
When I think back on past memories of Summerslam, there are so many different matches to choose from as a favorite. Interestingly enough, Bret Hart factors into a majority of great Summerslam match-ups through the years. Bret didn't win them all, but looking at his place in the list of best Summerslam matches, maybe he should be Mr. Summerslam just as much as HBK was Mr. WrestleMania. You could pick Hart/Perfect, Bret/Owen in the cage, Bret/Undertaker w/HBK as ref (one of my top all time, especially with the chain of events that stemmed from that one match), the first TLC match, or even Undertaker versus Undertaker. With all of the options in front of me, I chose another Bret Hart classic, a match against my favorite worker growing up before I got hooked on Undertaker.
Bret Hart versus Davey Smith was an amazing matchup, you had the master technician versus a powerhouse who could still move and bump in a match. Add to the drama that it was a battle of brother-in-laws, for the Intercontinental Championship (when the belt still mattered), and it was in the Bulldog's backyard at Wembley Stadium, this was a psychological fans wet dream. If you can't get invested in this storyline, and you can't enjoy this match, then there's a chance you may want to stop watching wrestling altogether. From the moment Bret kissed the belt to open the match to the sharpshooter applied from the the mat, to that last second roll-up by the Bulldog to take the IC title, it was an amazing 30 minutes, a masterpiece. I still get goosebumps when I rewatch that match (as I did just now), the final moment with Davey, Bret, and Diana standing in front of the pyro with their arms held high, it was such a magic moment and will ALWAYS be one of the highlights of my childhood.
Adam Wacker – Hell in a Cell: Edge vs. Undertaker (Summerslam 2008)
When I look back at this match, it is difficult for me to see it without rose colored glasses. Seeing as how this was not only my first Summerslam, but on of the first matches I remember seeing, so this main event is incredibly nostalgic for me. This match showed me the beauty of wrestling, which I instantly fell in love with. I don't know what it was that drew me to this match, but looking back, I had pretty good taste in what wrestling I watched. Maybe it was the spectacle of these two characters, the brutality or the athletics – but one thing is for sure: they got me hooked for life.  After rewatching this, I can definitely say this  wasn't one of the best matches I've seen with these two, but it was one of the most memorable. It's hard to replicate my thoughts during this match as a child, but I will be forever thankful to these two for getting me into wrestling in the first place.