---
Posted by Van Hammer
It was Ric Flair, Arn & Ole Anderson and Tully Blanchard that made me turn away from my local Fox Station where WWF came on at about 1 pm to see Ric and the boys promote the next beating they would issue out. These guys made me believe. Ric was smart, Arn and Ole were tough and Tully was a blend of both. With JJ Dillon in tow, it was an unstoppable force. Tag team gold, Television Title, World Title and NWA National Heavyweight Title, they were the pinnacle of success and they really lived it. Although there would be changes in line up as Ole was pushed out and Luger came in, Barry Windham, Sting, Vicious, Benoit and Many others as well, Arn and Ric were always the cornerstone and foundation of that group. Few stables came as close to the legacy these men created. Some have come damn close though. Here is a look at some of the other stables that resulted from the legendary groups success.
Evolution
Evolution was an extension or evolved version of the Horsemen. With Flair as the anchor, acting as part JJ Dillon part Arn (as in technician), HHH played a modern Flair well. Backed by a legit enforcer in Batista and the wildcard future Apex Predator Randy Orton, this group was the best of the best. Who can forget the Monday Night Raw when Evolution appeared with HHH carrying the World Heavyweight Championship, Flair and Batista with the Tag Team Titles and Randy Orton holding the Intercontinental strap. If the Horsemen were a perfect 10 out of 10, Evolution would be slightly under at a 9.
Fourtune
Fourtune, despite being the bane of spell checks everywhere was the very best stable in TNA History. Anchored by Flair, AJ Styles was a World Title contender, with Beer Money being perhaps the best tag team in wrestling at the time and Kaz as the wildcard and perennial X Division favorite, this was the best of the best. Despite not having the break out scene like Evolution, Styles did defeat Kurt Angle before it was more commonplace, and Beer Money were always stealing the show. If you had to grade this incarnation, it would be at least an 8 out of ten.
The Legacy
So what happens if you spin off of the group. It can go right like the Legacy.That is if was not lead by an increasingly predatory Randy Orton, and if you had Flair or Anderson as anchor guiding the sons of prowrestling legends. With Randy Orton winning World Titles and Cody Rhodes and Ted Dibiase Jr. on the cusp of tag team and mid card greatness, this group was primed to take over the industry. Comparing them to the Horsemen and you end up with a generous 6 out of 10.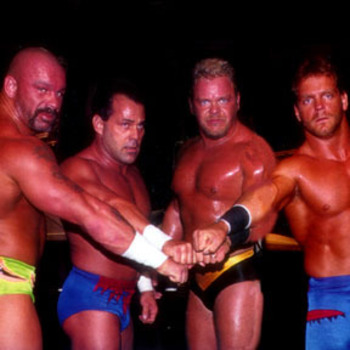 Revolution
Shane Douglass and the Radicals (minus Eddie Guerrero) or Dean Malenko, Perry Saturn and Chris Benoit. This group had everything except the companies backing necessary to create a legacy and the proof is in the pudding. With Shane Douglass, in my opinion, one of the greatest to not receive his top company World Title push since Ted Dibiase Sr. in the Flair role, Malenko and Saturn as a team and Benoit chasing the US Title, if the company (WCW) had not been bogged down by older stars with creative control and the arrival of Vince Russo, this would have been the future WCW desperately needed in just a few short years. Dean would prove to be a considerable addition to WWE's undercard and eventually backstage team, Saturn, an amazing worker when sober, rounded out the radicals and Benoit became a world champion. Because Shane was no threat to the World Title and creative would only let this group go but so far they were stuck. With that caveat, what could have been greatness must be judged as a generous 4 out of 10. Just to throw in my two cents, the Radicals would easily be a 6 out of 10 on my Horsemen scale, if that makes any difference.
The Xtreme Horsemen
VCW and MLW had the pleasure of this offshoot. With JJ Dillon being the tie in and CW receiving the Anderson name and subsequently playing the role well, the Xtreme Horsemen cause havoc for independents. As The King of the Old School Steve Corino took the lead, CW Anderson was an excellent step in and Justin Credible taking it to the hardcore along with Simon to round out the group they were impressive. It is also noteworthy that Barry Windham would show up from time to time as an ally. Since they never got to face the lucky guys in the WCW, TNA and WWE locker room it would be a bit unfair to rate them as such but ROH should definitely give us a one off of this unit together as Corino has found his niche there.
And finally, I would be remiss if I didnt at least discuss The Millionares Club. Awful storyline, boring tv and worse PPVs. This group did however contain former Horsemen including Flair, Sting, Vicious, Curt Hennig and Lex Luger. And just remember, even if you werent around to witness the greatness the Horsemen achieved, you benefited from their legacy. Without them there would be no DX or NWO. The big three would not have brought the Heenan Family or Dangerous Alliances, Million Dollar Corporations or York Foundations, or even the Dungeon of Doom and WWE Gang Wars with the Nation of Domination, Diciples of Apocalypse etc.
Download - iPhone | Android | iPad